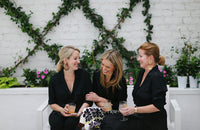 The story behind SERENAxCCH
We have collaborated with SERENA WOLF, chef, best selling author, and lifestyle influencer to create the SERENA shirt by CCH. 
Our goal was to create a universally flattering, wear with everything, button down shirt that is true to our motto of being Essential, Effortless and Everyday.
SERENA shares our passion for creating a wardrobe of timeless, versatile pieces that can be dressed up or down day to night. And our dream has come to life with the SERENA shirt.
Creating this style was a labor of love. From the button placement to the length of the shirt tail to the drape of the fabric, no detail was spared.
The SERENA by CCH shirt will be available in a classic navy and a polished ivory for spring, and will be available for purchase on our website on April 20th.
We hope you love it as much as we do!
XO
Alston, Serena, & Carter
Shop Now